How Has The Ten Spot® Beauty Bar Franchise Made Their Mark?
Introduction
Finding your way through a ,$532 Billion industry can be a challenging feat, but founder & CEO Kristen Gale found an untapped middle niche beauty sector and used it as her platform for success.
Story
Like most good stories, The Ten Spot was created from a need. Kristen was living in NYC fresh off being fired, twice, when she used this time to take notice of her surroundings. The result was identifying a middle market need for multi beauty services in one clean location for women on the go. Her Toronto 'spot' became a local success with word of mouth advertising, that she opened two more locations. People wanted in on the ride so she developed into a franchise model in 2013. Using her detail oriented personality to create not only a cult-like following but a buttoned up business model of a well proven system that gained them multiple award recognitions over the years. Now they've gone south….into the US territory.
How is The Ten Spot® Different
Finding that middle niche under-represented market that lives between the high end spas and the mom & pop local nail salons, The Ten Spot® is dominating the efficient, affordable and cheeky vibe spa. This cheekiness is part of the loyalty that customers have to the brand. The services are vast: nails, wax, laser, skin care and brows. Many services under one roof. It's a relaxed but fun vibe with music, a social setting (bar included), great guest care, efficient, squeaky clean atmosphere! Their motto is "walk in. strut out."
Culture & Vibe
What is a testament to a great culture? Time & Tattoos! A loyal following of talent who have stayed with Kristen from the beginning. From corporate personnel to franchisees, a trend started of getting a 'ten spot' tattoo. Purpose and core values is something they are fanatical about! Making sure any franchise partners they are awarding & bringing in are in alignment with the company's mission.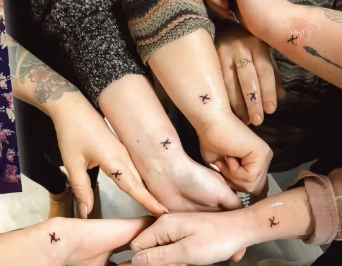 Kristen has created such a supportive, growth mindset culture where people believe in the brand and each other. There is the foundation of trust and loyalty, which begins all good relationships. Their cheeky energetic & intentional vibe helps to dominate in their current markets.
Support Systems
This strong culture breads good business and explains the growth The Ten Spot is experiencing. For franchisees they offer full support in marketing, real estate and training along with any ongoing training to make sure franchisees are supported & successful.
Who Makes a Good Franchisee?
Who has invested as a franchisee? It might surprise you! The backgrounds of some of their franchisees range from the VP of Best Buy to HBO to Exxon and financial planners. This services to debunk the usual perception that women who enjoys beauty own a beauty business. Once the facets of the business model are understood of any successful ethical business, it doesn't matter what the widget / service is, so long as the entire model makes sense.
Conclusion
The Ten Spot is a strong proven brand that is growing into major markets in the US. With their cult-like culture, values driven mission within a growing industry, top executives at some large companies are investing into the brand, mostly as semi-absentee owners. To learn more about this exciting and sexy brand listen to the webinar:
Could you see yourself being a franchise owner of The Ten Spot? If so, reach out to casually discuss next steps: ,www.thefranchiseeducator.com/book-online
Awards
Canada's top 40 under 40 award recipient 2017
winner of the bronze franchise award of excellence for 2018, by the Canadian franchise association
winner of the bronze franchise award of excellence for 2017, by the Canadian franchise association
franchisee choice award recipient 2018, by the Canadian franchise association
franchisee choice award recipient 2017, by the Canadian franchise association
franchisee choice award recipient 2016, by the Canadian franchise association
listed as one of 500's fastest growing companies 2018 by Mcleans and Canadian business magazine
listed as one of the GROWTH 500's fastest growing companies 2018 by Canadian business + Macleans
listed as one of the PROFIT 500's fastest growing companies 2017 in Canada
listed as one of the PROFIT 500's fastest growing companies 2016 in Canada
listed as one of the PROFIT 500's fastest growing companies 2015 in Canada
named one of entrepreneur magazine's top global franchisees in 2015 by entrepreneur magazine
listed as w100 Canada's top female entrepreneur 2016 by PROFIT/chatelaine magazine
listed as w100 Canada's top female entrepreneur 2015 by PROFIT/chatelaine magazine
listed as w100 Canada's top female entrepreneur 2014 by PROFIT/chatelaine magazine
named Canada's top young female entrepreneur for 2015, presented by chatelaine magazine